British Literature on the threshold
5th May 2017 – Women Writers: Then and Now
University of Salamanca
12.00. Prof. Janet Todd. 'From Biographer to Novelist: Women
Writers and Dominating Men
13.00. Book presentation: A Man of Genius. Janet Todd.
Sevenoaks Literary Festival
Friday, 30th September 2016 at 19:30
Janet will speak about A Man of Genius
Ship Theatre, Walthamstow Hall School, Hollybush Lane, Sevenoaks TN13 3UL
Tickets: £9
Tickets for the festival will be available from Sevenoaks Bookshop from 30th July
147 High Street, Sevenoaks, Kent TN13 1XJ
Call 01732 452055 or contact us here
http://sevlitfest.com/events/janet-todd/
---
The Sick Children's Trust
Friday, 2nd  September 2016
Janet will talk about A Man of Genius at the autumn luncheon of the Trust.
---
Book Launch at Chawton House Library
Thursday, 9th June 2016 at 19:00
 
---
U.S. Launch of A Man of Genius: Janet Todd Makes U.S. Literary Debut
Book Culture Bookstore, 536 West 112th Street, New York, NY 10025-1601 USA
Thursday, 5th May 2016 at 19:00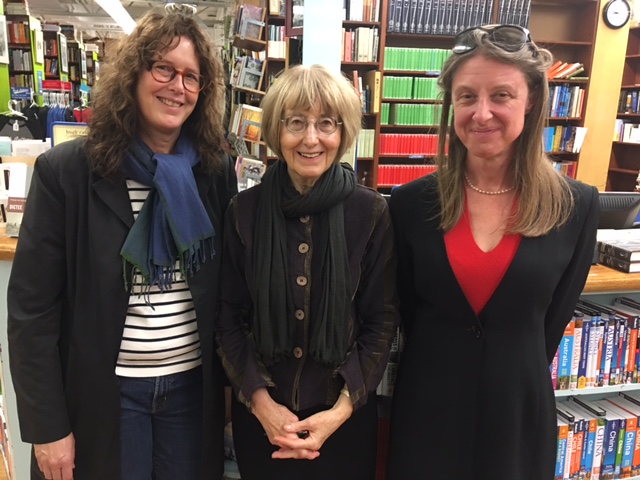 In May, Book Culture in New York City hosted the launch party in the U.S. for A Man of Genius by Janet Todd, just published by Bitter Lemon Press. Todd, a former Cambridge University professor and author of academic books about Jane Austen, Mary Wollstonecraft and the Shelley circle, among others, read from the novel and fielded questions from the audience. From l.: Julie Schaper, president of Consortium Book Sales & Distribution, Bitter Lemon's U.S. distributor; Todd; and Katherine Bright-Holmes, managing director of Consortium in the U.K. and crucial in helping Todd publish her debut, a literary novel set in Regency London and Venice just after the Napoleonic Wars, about a gothic writer who struggles with psychological dependency and the complexity of obsession.
http://www.bookculture.com/event/112th-janet-todd-man-genius
---
An Evening with Janet Todd in conversation with Ruth Scurr
Waterstones Bookshop, Piccadilly, London UK
Tuesday 15th March 2016 at 19:00
Tickets are £5 and can be purchased in-store, by telephone 0207 851 2400 or email piccadilly@waterstones.com
https://www.waterstones.com/events/a-man-of-genius-book-launch-with-janet-todd/london-piccadilly
---
Tuesday 8 March 2016 at 18:30
Heffers Book Shop, Trinity Street, Cambridge UK
Book launch event for A Man of Genius by Janet Todd.
FREE
https://www.eventbrite.co.uk/e/book-launch-a-man-of-genius-tickets-20780172054
---
Marilyn Butler and the War of Ideas: A Commemorative Conference at Chawton House Library.
December 11-12, 2015
---
Talk on 'Mary Wollstonecraft: The battle between Reason and Emotion'
Wednesday 9 September 2015, Bath UK
---
Wolfson College Oxford UK
Saturday 7th November 2015